Akkana's Musings on Open Source Computing and Technology, Science, and Nature.
Updated: 7 hours 59 min ago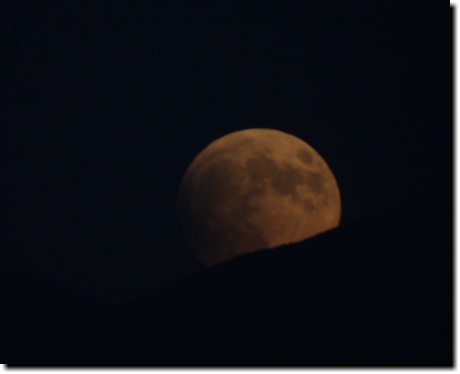 The lunar eclipse on Sunday was gorgeous. The moon rose already in eclipse, and was high in the sky by the time totality turned the moon a nice satisfying deep red.
I took my usual slipshod approach to astrophotography. I had my 90mm f/5.6 Maksutov lens set up on the patio with the camera attached, and I made a shot whenever it seemed like things had changed significantly, adjusting the exposure if the review image looked like it might be under- or overexposed, occasionally attempting to refocus. The rest of the time I spent socializing with friends, trading views through other telescopes and binoculars, and enjoying an apple tart a la mode.
So the images I ended up with aren't all they could be -- not as sharply focused as I'd like (I never have figured out a good way of focusing the Rebel on astronomy images) and rather grainy.
Still, I took enough images to be able to put together a couple of animations: one of the lovely moonrise over the mountains, and one of the sequence of the eclipse through totality.
Since the 90mm Mak was on a fixed tripod, the moon drifted through the field and I had to adjust it periodically as it drifted out. So the main trick to making animations was aligning all the moon images. I haven't found an automated way of doing that, alas, but I did come up with some useful GIMP techniques, which I'm in the process of writing up as a tutorial.
Once I got the images all aligned as layers in a GIMP image, I saved them as an animated GIF -- and immediately discovered that the color error you get when converting to an indexed GIF image loses all the beauty of those red colors. Ick!
So instead, I wrote a little Javascript animation function that loads images one by one at fixed intervals. That worked a lot better than the GIF animation, plus it lets me add a Start/Stop button.
You can view the animations (or the source for the javascript animation function) here: Lunar eclipse animations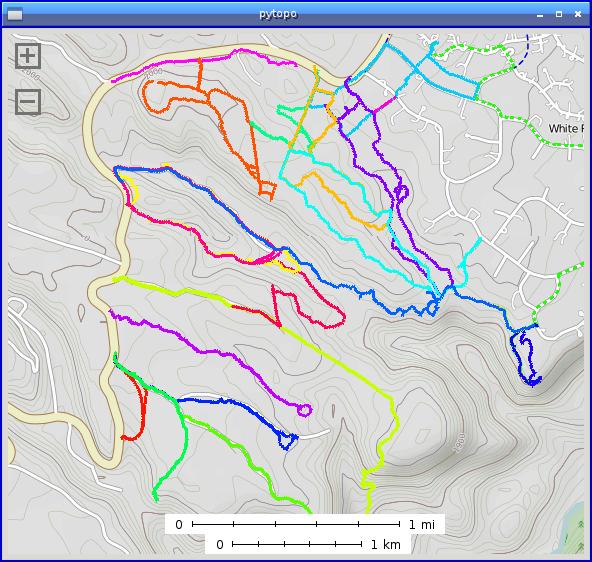 Every now and then I need to create a series of contrasting colors. For instance, in my mapping app PyTopo, when displaying several track logs at once, I want them to be different colors so it's easy to tell which track is which.
Of course, I could make a list of five or ten different colors and cycle through the list. But I hate doing work that a computer could do for me.
Choosing random RGB (red, green and blue) values for the colors, though, doesn't work so well. Sometimes you end up getting two similar colors together. Other times, you get colors that just don't work well, because they're so light they look white, or so dark they look black, or so unsaturated they look like shades of grey.
What does work well is converting to the HSV color space: hue, saturation and value. Hue is a measure of the color -- that it's red, or blue, or yellow green, or orangeish, or a reddish purple. Saturation measures how intense the color is: is it a bright, vivid red or a washed-out red? Value tells you how light or dark it is: is it so pale it's almost white, so dark it's almost black, or somewhere in between? (A similar model, called HSL, substitutes Lightness for Value, but is similar enough in concept.)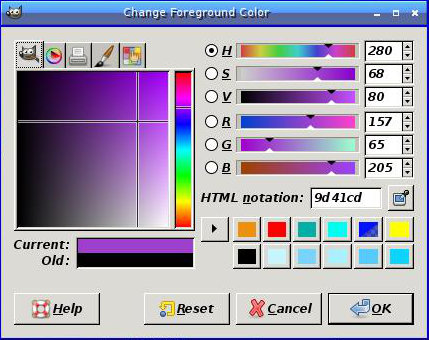 If you're not familiar with HSV, you can get a good feel for it by playing with GIMP's color chooser (which pops up when you click the black Foreground or white Background color swatch in GIMP's toolbox). The vertical rainbow bar selects Hue. Once you have a hue, dragging up or down in the square changes Saturation; dragging right or left changes Value. You can also change one at a time by dragging the H, S or V sliders at the upper right of the dialog.
Why does this matter? Because once you've chosen a saturation and value, or at least ensured that saturation is fairly high and value is somewhere in the middle of its range, you can cycle through hues and be assured that you'll get colors that are fairly different each time. If you had a red last time, this time it'll be a green, or yellow, or blue, depending on how much you change the hue.
How does this work programmatically?
PyTopo uses Python-GTK, so I need a function that takes a gtk.gdk.Color and chooses a new, contrasting Color. Fortunately, gtk.gdk.Color already has hue, saturation and value built in. Color.hue is a floating-point number between 0 and 1, so I just have to choose how much to jump. Like this:
def contrasting_color(color): '''Returns a gtk.gdk.Color of similar saturation and value to the color passed in, but a contrasting hue. gtk.gdk.Color objects have a hue between 0 and 1. ''' if not color: return self.first_track_color; # How much to jump in hue: jump = .37 return gtk.gdk.color_from_hsv(color.hue + jump, color.saturation, color.value)
What if you're not using Python-GTK?
No problem. The first time I used this technique, I was generating Javascript code for a company's analytics web page. Python's colorsys module works fine for converting red, green, blue triples to HSV (or a variety of other colorspaces) which you can then use in whatever graphics package you prefer.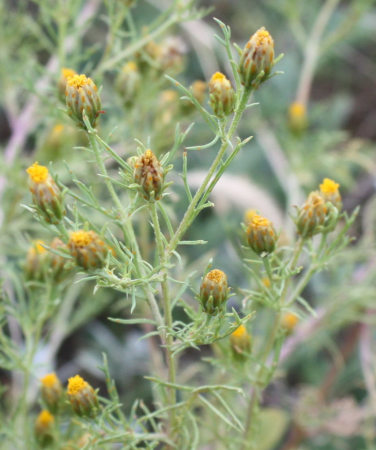 The street for a substantial radius around my mailbox has a wonderful, strong minty smell. The smell is coming from a clump of modest little yellow flowers.
They're apparently Dyssodia papposa, whose common name is "fetid marigold". It's in the sunflower family, Asteraceae, not related to Lamiaceae, the mints.
"Fetid", of course, means "Having an offensive smell; stinking". When I google for fetid marigold, I find quotes like "This plant is so abundant, and exhales an odor so unpleasant as to sicken the traveler over the western prairies of Illinois, in autumn." And nobody says it smells like mint -- at least, googling for the plant and "mint" or "minty" gets nothing.
But Dave and I both find the smell very minty and pleasant, and so do most of the other local people I queried. What's going on?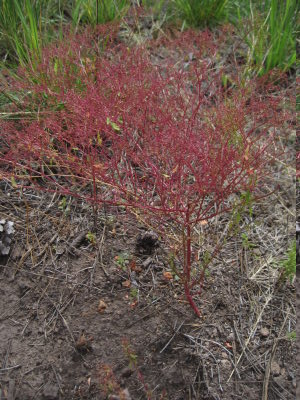 Another local plant which turns strikingly red in autumn has an even worse name: fetid goosefoot. On a recent hike, several of us made a point of smelling it. Sure enough: everybody except one found it minty and pleasant. But one person on the hike said "Eeeeew!"
It's amazing how people's sensory perception can vary. Everybody knows how people's taste varies: some people perceive broccoli and cabbage as bitter while others love the taste. Some people can't taste lobster and crab at all and find Parmesan cheese unpleasant.

And then there's color vision. Every amateur astronomer who's worked public star parties knows about Albireo. Also known as beta Cygni, Albireo is a double star, the head of the constellation of the swan or the foot of the Northern Cross. In a telescope, it's a double star, and a special type of double: what's known as a "color double", two stars which are very different colors from each other.
Most non-astronomers probably don't think of stars having colors. Mostly, color isn't obvious when you're looking at things at night: you're using your rods, the cells in your retina that are sensitive to dim light, not your cones, which provide color vision but need a fair amount of light to work right.
But when you have two things right next to each other that are different colors, the contrast becomes more obvious. Sort of.
Point a telescope at Albireo at a public star party and ask the next ten people what two colors they see. You'll get at least six, more likely eight, different answers. I've heard blue and red, blue and gold, red and gold, red and white, pink and blue ... and white and white (some people can't see the colors at all).
Officially, the bright component is actually a close binary, too close to resolve as separate stars. The components are Aa (magnitude 3.18, spectral type K2II) and Ac (magnitude 5.82, spectral type B8). (There doesn't seem to be an Albireo Ab.) Officially that makes Albireo A's combined color yellow or amber. The dimmer component, Albireo B, is magnitude 5.09 and spectral type B8Ve: officially it's blue.
But that doesn't make the rest of the observers wrong. Color vision is a funny thing, and it's a lot more individual than most people think. Especially in dim light, at the limits of perception. I'm sure I'll continue to ask that question when I show Albireo in my telescope, fascinated with the range of answers.

In case you're wondering, I see Albireo's components as salmon-pink and pale blue. I enjoy broccoli and lobster but find bell peppers bitter. And I love the minty smell of plants that a few people, apparently, find "fetid".