Katie - LiveJournal.com
Updated: 51 min 10 sec ago
So I did the Day 2 workout from
Couch-to-5K
this evening. And it went
so
much better than Day 1, which is an identical workout. I mean, it wasn't
enjoyable
by any stretch of the imagination, but I never felt on the verge of collapsing or unable to speak. When the app told me it was time for the cool-down, I said, "Wait—what? Really?" Who knows what it was that made the difference. Given that the conditions I'll usually be jogging in will be these rather than my Day 1 conditions, this gives me some hope.
This entry was originally posted at http://bokunenjin.dreamwidth.org/54565.html.
Heya world, I'm going to try avoiding browsing my Facebook news feed for the near future, so here's some warning for you—and a
commitment device
for me. Note that my public blog posts (like this one), Flickr uploads, and some tweets automatically get posted to my Facebook wall, so you'll probably continue to see some activity from me, and if you comment on it I'll engage with you. Likewise, I'll respond to Facebook messages, event invitations, and mentions. Theoretically you'll see more status updates from me on Twitter and Dreamwidth/Livejournal, where I'm bokunenjin.
This entry was originally posted at http://bokunenjin.dreamwidth.org/54127.html.
I'm planning on doing a public chado event or two this year at Burning Man, tentatively in the base of
Cosmic Praise
, a climbable 50-foot tower with a
spark chamber
in the cupola that will be located at the 6-o'clock keyhole overlooking center camp. It won't be in the printed program—which filled up faster than I could find a venue—but I'll add it to the
online event directory
once I figure out when it'll be. The bottom of the tower will have a 12-foot diameter open space with a single doorway and 14-foot tall cloth walls, for reference.
xuth
, who will be part of the build team, points out that I may get too many people if I do this in such a central location, so I'm thinking about how to delineate the space so it isn't
too
inviting to casual passersby.
This challenge has me reviewing temporary tea spaces that others have built, and I'm so impressed by their creativity and beauty that I wanted to share: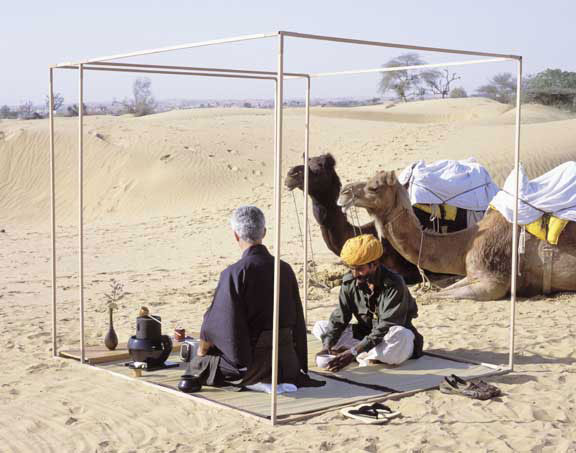 Incidentally, I'm trying to think of a name for my tea event. It should distinguish this from
other on-playa tea events
by referencing chado / chanoyu / Way of Tea. It isn't going to be ceremonial, so I think "tea ceremony" would be inaccurate. And ideally it would tie into
cosmic rays
. Any ideas?
This entry was originally posted at http://bokunenjin.dreamwidth.org/53973.html.