Elizabeth Krumbach Joseph's public journal about Linux, sysadmining, beer, travel, pink gadgets and her life in the city where little cable cars climb halfway to the stars.
Updated: 1 hour 4 min ago
Last night I learned the worst kind of news, my friend and valuable member of the Linux community here in San Francisco, Eric P. Scott (eps) recently passed away.
In an excerpt from a post by Chaz Boston Baden, he cites the news from Ron Hipschman:
I hate to be the bearer of bad news, but It is my sad duty to inform you that Eric passed away sometime in the last week or so. After a period of not hearing from Eric by phone or by email, Karil Daniels (another friend) and I became concerned that something might be more serious than a lost phone or a trip to a convention, so I called his property manager and we met at Eric's place Friday night. Unfortunately, the worst possible reason for his lack of communication was what we found. According to the medical examiner, he apparently died in his sleep peacefully (he was in bed). Eric had been battling a heart condition. We may learn more next week when they do an examination.
He was a good friend, the kind who was hugely supportive of any local events I had concocted for the Ubuntu California community, but as a friend he was also the thoughtful kind of man who would spontaneously give me thoughtful gifts. Sometimes they were related to an idea he had for promoting Ubuntu, like a new kind of candy we could use for our candy dishes at the Southern California Linux Expo, a toy penguin we could use at booths or a foldable origami-like street car he thought we could use as inspiration for something similar as a giveaway to promote the latest animal associated with an Ubuntu LTS release.
He also went beyond having ideas and we spent time together several times scouring local shops for giveaway booth candy, and once meeting at Costco to buy cookies and chips in bulk for an Ubuntu release party last spring, which he then helped me cart home on a bus! Sometimes after the monthly Ubuntu Hours, which he almost always attended, we'd go out to explore options for candy to include at booth events, with the amusing idea he also came up with: candy dishes that came together to form the Ubuntu logo.
In 2012 we filled the dishes with M&Ms: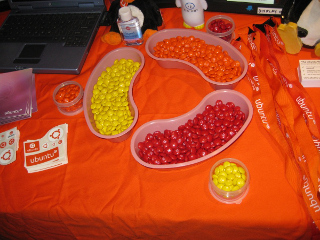 The next year we became more germ conscious and he suggested we go with individually wrapped candies, searching the city for ones that would taste good and not too expensive. Plus, he found a California-shaped bowl which fit into our Ubuntu California astonishingly theme well!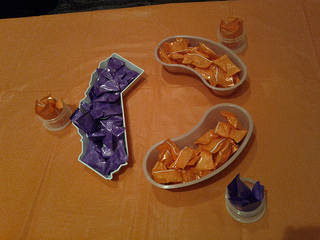 He also helped with Partimus, often coming out to hardware triage and installfests we'd have at the schools.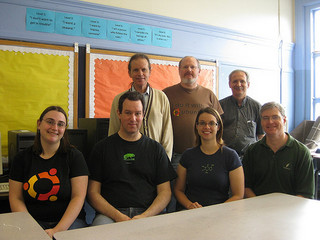 At a
Partimus
-supported school, back row, middle
As a friend, he was also always welcome to share his knowledge with others. Upon learning that I don't cook, he gave me advice on some quick and easy things I could do at home, which culminated in the gift of a plastic container built for cooking pasta in the microwave. Skeptical of all things microwave, it's actually something I now use routinely when I'm eating alone, I even happened to use it last night before learning of his passing.
He was a rail fan and advocate for public transportation, so I could always count on him for the latest transit news, or just a pure geek out about trains in general, which often happened with other rail fans at our regular Bay Area Debian dinners. He had also racked up the miles on his favorite airline alliance, so there were plenty of air geek conversations around ticket prices, destinations and loyalty programs. And though I haven't really connected with the local science fiction community here in San Francisco (so many hobbies, so little time!), we definitely shared a passion for scifi too.
This is a hard and shocking loss for me. I will deeply miss his friendship and support.
I've spent this month at home. Unfortunately, I've been pretty stressed out. Now that I'm finally home I have a ton to catch up on here, I'm getting back into the swing of things with the pure technical (not event, travel, talk) part of my day job and and have my book to work on. I know I haven't backed off enough from projects I'm part of, even though I've made serious efforts to move away from a few leadership roles in 2014, so keeping up with everything remains challenging. Event-wise, I've managed to arrange my schedule so I only have 4 trips during this half of the year (down from 5, thanks to retracting a submission to one domestic conference), and 1-3 major local events that I'm either speaking at or hosting. It still feels like too much.
Perhaps adding to my stress was the complete loss of 5 days last week to the flu. I had some sniffles and cough on Friday morning, which quickly turned into a fever that sent me to bed as soon as I wrapped up work in the early evening. Saturday through most of Tuesday are a bit of a blur, I attempted to get some things done but honestly should have just stayed in bed and not tried to work on anything, because nothing I did was useful and actually made it more difficult to pick up where I left off come late Tuesday and into Wednesday. I always forget how truly miserable having the flu is, sleep is the only escape, even something as mind-numbing as TV isn't easy as everything hurts. However, kitty snuggles are always wonderful.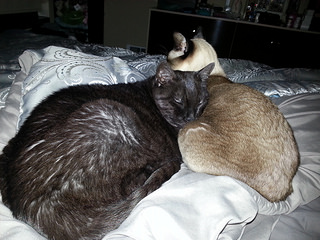 Sickness aside, strict adherence to taking Saturdays off has helped my stress. I really look forward to my Saturdays when I can relax for a bit, read, watch TV, play video games, visit an exhibit at a museum or make progress in learning how to draw. I'm finally at the point where I no longer feel guilty for taking this time, and it's pretty refreshing to simply ignore all email and social media for a day, even if I do have the impulse to check both. It turns out it's not so bad to disconnect for a weekend day, and I come back somewhat refreshed on Sunday. It ultimately does make me more productive during the rest of the week too, and less likely to just check out in the middle of the week in a guiltful and poorly-timed evening of pizza, beer and television.
This Saturday MJ and I enjoyed All Aboard: A Celebration of Walt's Trains exhibit at the Walt Disney Family Museum. It was a fantastic exhibit. I'm a total sucker for the entrepreneurial American story of Walt Disney and I love trains, so the mix of the two was really inspiring. This is particularly true as I find my own hobbies being as work-like and passion-driven as my actual work. Walt's love of trains and creation of a train at his family home in order to have a hobby outside work led to trains at Disney parks around the world. So cool.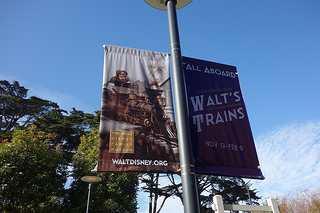 No photos are allowed in the exhibit, but I did take some time around the buildings to capture some signs and the beautiful day in the Presidio: https://www.flickr.com/photos/pleia2/sets/72157650347931082/
One evening over these past few weeks took time to put together a scrap book, which I'd been joking about for years ("ticket stub? I'll keep it for my scrap book!"). Several months ago I dug through drawers and things to find all my "scrap book things" and put them into a bag, collecting everything from said ticket stubs to conference badges from the past 5 years. I finally swung by a craft store recently and picked up some rubber cement, good clear tape and an empty book made for the purpose. Armed with these tools, I spent about 3 hours gluing and taping things into the book one evening after work. The result is a mess, not at all beautiful, but one that I appreciate now that it exists.
I mentioned in my last "life" blog post that I was finishing a services migration from one of my old servers. That's now done, I shut off my old VPS yesterday. It was pretty sad when I realized I'd been using that VPS for 7 years when the level plan I had offered a mere 360M of RAM (up to 2G now), I had gotten kind of attached! But that faded today when I did an upgrade on my new server and realized how much faster it is. On to bigger and better things! In other computer news, I'm really pushing hard on promoting the upcoming Ubuntu Global Jam here in the city and spent Wednesday evening of this week hosting a small Ubuntu Hour, thankful that it was the only event of the evening as I continued to need rest post-flu.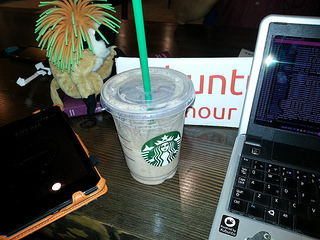 Today is a Monday, but a holiday in the US. I spent it catching up with work for Partimus in the morning, Ubuntu in the afternoon and this evening I'm currently avoiding doing more work around the house by writing this blog post. I'm happy to say that we did get some tricky light bulbs replaced and whipped out the wood glue in an attempt to give some repair love to the bathroom cabinet. Now off to do some laundry and cat-themed chores before spending a bit more time on my book.
For years Gandi.net has been a strong supporter of Open Source communities and non-profits. From their early support of Debian to their current support of Ubuntu via discounts to Ubuntu Members they've been directly supportive of projects I'm passionate about. I was delighted when I heard they had opened an office in my own city of San Francisco, and they've generously offered to host the next Ubuntu Global Jam for the Ubuntu California team right here at their office in the city.
What's an Ubuntu Global Jam? From the FAQ on the wiki:
A world-wide online and face-to-face event to get people together to work on Ubuntu projects – we want to get as many people online working on things, having a great time doing so, and putting their brick in the wall for free software as possible. This is not only a great opportunity to really help Ubuntu, but to also get together with other Ubuntu fans to make a difference together, either via your LoCo team, your LUG, other free software group, or just getting people together in your house/apartment to work on Ubuntu projects and have a great time.
The event will take place on Sunday, February 8th from noon – 5PM at the Gandi offices on 2nd street, just south of Mission.
Community members will gather to do some Quality Assurance testing on Xubuntu ISOs and packages for the upcoming release, Vivid Vervet, using the trackers built for this purpose. We're focusing on Xubuntu because that's the project I volunteer with and I can help put us into contact with the developers as we test the ISOs and submit bugs. The ISO tracker and package tracker used for Xubuntu are used for all recognized flavors of Ubuntu, so what you learn from this event will transfer into testing for Ubuntu, Kubuntu, Ubuntu GNOME and all the rest.
No experience with Testing or Quality Assurance is required and Quality Assurance is not as boring as it sounds, honest :) Plus, one of the best things about doing testing on your hardware is that your bugs are found and submitted prior to release, increasing the chances significantly that any bugs that exist with your hardware are fixed prior to release!
The event will begin with a presentation that gives a tour of how manual testing is done on Ubuntu releases. From there we'll be able to do Live Testing, Package Testing and Installation testing as we please, working together as we confirm bugs and when we get stuck. Installation Testing is the only one that requires you to make any changes to the laptop you bring along, so feel free to bring along one you can do Live and Package testing on if you're not able to do installations on your hardware.
I'll also have the following two laptops for folks to do testing on if they aren't able to bring along a laptop:
I'll also be bringing along DVDs and USB sticks with the latest daily builds for tests to be done and some notes about how to go about submitting bugs.
Please RSVP here (full address also available at this link):
http://loco.ubuntu.com/events/ubuntu-california/2984-ubuntu-california-san-francisco-qa-jam/
Or email me at lyz@ubuntu.com if you're interested in attending and have trouble with or don't wish to RSVP through the site. Also please feel free to contact me if you're interested in helping out (it's ok if you don't know about QA, I need logistical and promotional help too!).
Food and drinks will be provided, the current menu is a platter of sandwiches and some pizzas, so please let me know if you have dietary restrictions so we can place orders accordingly. I'd hate to exclude folks because of our menu, so I'm happy to accommodate vegan, gluten free, whatever you need, I just need to know :)
Finally, giveaways of Ubuntu stickers and pens for everyone and a couple Ubuntu books (hopefully signed by the authors!) will also be available to a few select attendees.
Somewhere other than San Francisco and interested in hosting or attending an event? The Ubuntu Global Jam is an international event with teams focusing on a variety of topics, details at: https://wiki.ubuntu.com/UbuntuGlobalJam. Events currently planned for this Jam can be found via this link: http://loco.ubuntu.com/events/global/2967/